One of the characteristics that differentiates NECA-IBEW Electricians member contractors and IBEW electricians is the positive impact we make in the community.
And one cause we've taken head-on in recent years is our support of area Veterans. To that end, we've:
Helped rebuild local VFW halls
Raised money for Veterans scholarships at YSU
Promoted NECA and IBEW's Helmets to Hardhats initiative to recruit former service members to the construction industry
Sponsored Military Appreciation Nights at Eastwood Field to honor Veterans at Mahoning Valley Scrappers games
Provided financial assistance for local female Veterans-in-need to buy gifts for their children for Christmas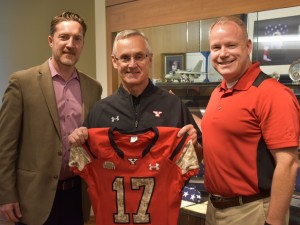 Click here to view the highlight video
Other major initiatives involved raising money, participating and providing the electrical service at multiple area American Cancer Society Relay for Life events.
And as our member contractors and IBEW union locals do every year, sponsor, contribute in-kind services to and volunteer at several charitable events in their respective communities.
We included a sampling of these initiatives in the accompanying highlight video.
Here's to a successful 2018 for all our contractors and union electricians so we can continue to provide this high level of community support.